Keirin is a sport invented specifically for betting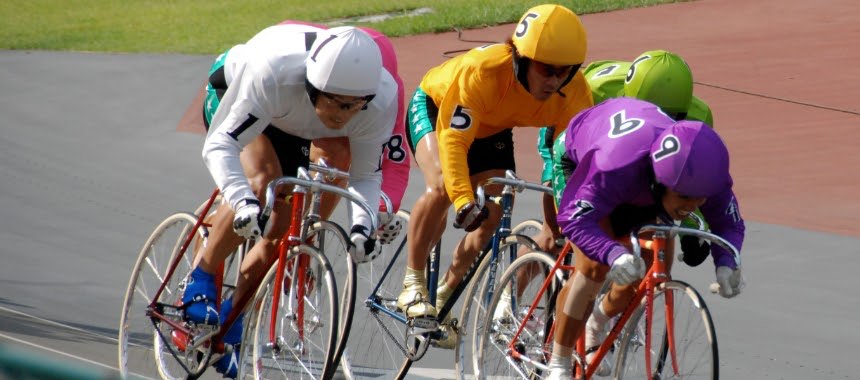 Keirin (literal translation - cycling), one of the traditional Japanese sports, was invented when the Second World War ended. The list of sports disciplines on which bets are allowed is strictly limited in Japan. These are usually racing competitions (Formula 1, speedway, rowing, horse racing), where all competitors are initially in the same position. Keirin is the apotheosis of such races.
Briefly about the keirin rules
Keirin is the most equal discipline in cycling. All participants must be in the same conditions, be equally prepared and have the same bicycles. The length of the race is usually about 1.5 kilometers. It can be:
Six 250 meters laps;
Four 333 meters laps;
Four 400 meters laps.
Initially, all riders follow a pacer (motorcycle, e-bike or tandem bike) at a speed of 30 km/h. The speed gradually increases to 50 km/h. The "pacer" leaves the track before the final part of the race. Then the most interesting part of the race begins as there are no restrictions.
Keirin has been included in the men's Olympic program since 2000 and in the women's program since 2012. Reigning Olympic Champions (2016):
Jason Kenny (UK);
Elis Ligtlee (Netherlands).
There are many significant differences between keirin at international competitions and the same sport in Japan. Asian competitions are rougher.
Read more:
The Global Gambling Industry: Its Main Trends and Forecasts for 2020-2025
5 tips for successful Live betting
5 positives and 2 negatives of betting on Minor League Baseball online
Types of wagers on keirin
Many bookmakers have already added this sport on their websites. Types of wagers on keirin are no different from standard bets on any type of race:
Winner wagers;
Who will take first and second places in the order indicated;
First and second places in random order;
The first three places in the specified order/random order.
You can also sometimes find wagers on the results of one competitive day.
Keirin is super popular in Japan, where most of the wagers are made on this cycling discipline. Average wagers per year are estimated at 10 billion euros. About 5 million people are involved.
Keirin betting peculiarities
Any type of cycling is a strength and endurance test. Keirin is no exception. However, this discipline has its own peculiarities:
A rider must be equally good at long-distance races and lightning-speed finishes. Flexible athletes have an advantage;
Not all cycling tracks are the same. There are different lengths, different grades, different stands locations. You should definitely take into account how the driver performs on a particular track;
There is too much information. Since keirin is a sport invented specifically for betting, the organizers try to provide the maximum amount of information before the race;
International and Japanese competitions differ greatly in terms of rigidity. There are more falls and injuries, in Japan, so there are often unpredictable results as underdogs win;
Foreign athletes, who participate in Japanese competitions, are not allowed to compete with racers above a certain level (F). This means that the foreigners don't compete against the best Japanese athletes and win quite often.